Lemon Cake with Cream Cheese Filling
Yield: one 9" cake, serves 10-12
1 cup cake flour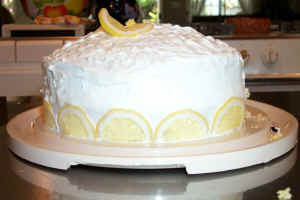 3 tsp. baking powder
3/4 cups sugar
3/4 cup butter
3 egg yolks
1/2 of lemon rind, grated
5 Tbs. lukewarm milk
3 egg whites, beaten until stiff
1 lemon, sliced thin and in half (used for garnishing)

Lemon Cream Cheese Frosting:
1 (8 ounce) package cream cheese, softened
1/4 cup butter
2 tablespoons lemon juice
2 teaspoons lemon zest
1 teaspoon vanilla extract
5 cups powdered sugar

Frosting:
Beat cream cheese, butter, lemon juice, lemon rind, and vanilla together until smooth and fluffy.
Add 3 cups powdered sugar and beat together. Add the additional 2 cups of powdered sugar. Beat until creamy. Add more icing sugar or juice as needed for easy spreading.

Cake:
Preheat oven to 350 degrees F. Sift the flour with the baking powder.

In a large bowl, beat butter with sugar and add the yolks one at the time mixing very well. Add lemon rind and the milk alternately with the flour.

Beat egg whites until stiff. Fold the egg whites very carefully into the mixture.

Pour mixture into a 9" round greased cake pan. Bake at 350 degrees F for 20-25 minutes or until done.
Remove cake from pan and let cool completely.

Cut cake into layers and fill with icing. Spread icing over the entire cake until covered. Use thinly sliced lemon pieces cut in half around the bottom of the cake.
Double the recipe to create a 1/4 sheet cake (9"x13" cake pan).