Hot Muffuletta
Before the hard salami, ham, and provolone are piled on, the bread for these New Orleans sandwiches is spread with a piquant olive salad flavored with garlic, oregano, and fresh parsley.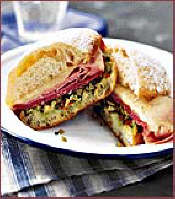 Yield: 4 servings
1 10-ounce jar green olives with pimientos, drained and chopped
1 1/2 teaspoons dried oregano
1 clove garlic, minced
3 tablespoons olive oil
1/4 cup chopped fresh parsley
4 large, crusty rolls, split
1/2 pound sliced hard salami
1/2 pound sliced ham
1/2 pound sliced provolone
1. Heat the oven to 350°. In a small bowl, combine the chopped olives with the oregano, garlic, oil, and parsley. Spread some of the olive mixture on the bottom half of each roll.
2. Top the olive salad with the salami, ham, and provolone. Cover with the tops of the rolls and then wrap each sandwich in aluminum foil. Bake until the cheese melts, about 15 minutes.
Variations:
1) Instead of heating the sandwiches, serve them the more traditional way--at room temperature.
2) Use a combination of chopped, pitted black olives, such as Kalamata, and green olives with pimientos in the salad for both color and flavor.
Wine recommendation:
Beaujolais has been called the perfect picnic wine. An exuberantly fruity bottle suits this jazzed-up ham-and-cheese sandwich perfectly.
Source: Quick From Scratch One-Dish Meals
Copyright 2001 Food & Wine - send a Food & Wine gift subscription