Eggnog Chocolate Chip Coffee Cake
Yield: 1 coffee cake, 16 slices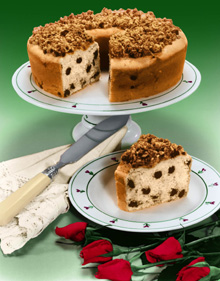 Dough
3 cups all-purpose flour
1/3 cup sugar
2 packages (1/2 ounce or 4 1/2 tsp) Fleischmann's RapidRise Yeast
1 teaspoon salt
3/4 cup eggnog
1/4 cup water
1/2 cup butter or margarine
2 large eggs
3/4 cup semisweet chocolate morsels
Chocolate Nut Topping
1/2 cup butter
2/3 cup all-purpose flour
2/3 cup sugar
2 teaspoons ground cinnamon
1 cup semisweet chocolate morsels
1 cup chopped pecans
In a large bowl, combine 1 cup flour, sugar, undissolved yeast, and salt. Heat eggnog, water and butter until very warm (120 to 130 F). Gradually add to flour mixture. Beat 2 minutes at medium speed of electric mixer, scraping bowl occasionally. Add eggs and 1 cup flour; beat 2 minutes at high speed. Stir in chocolate morsels and remaining flour to make a soft batter. Transfer batter from bowl to greased 10-inch tube pan. Cover; let rise in warm, draft-free place until doubled in size, about 1 hour.
Chocolate Nut Topping
In medium bowl, cut butter into flour with pastry blender, until crumbly. Stir in sugar, cinnamon, chocolate morsels and pecans.
Uncover dough; sprinkle evenly with Chocolate Nut Topping. Bake at 400 F for 20 to 25 minutes or until done. Cool in pan for 10 minutes. Remove from pan; cool completely on wire rack.
Nutrition Information Per Serving: 1 slice (1/16 of recipe; 3.5 ounces)
Calories 400; Total fat 24 g; Saturated fat 12 g; Cholesterol 65 mg; Sodium 280 mg; Carbohydrates 46 g; Dietary fiber 3 g; Sugars 25 g; Protein 5 g Source: Fleischmann's Yeast, a division of Burns Philp Food, Inc.
more Thanksgiving Recipes and more Christmas Recipes