Turkey Enchiladas with Pepper Salsa
6 flour tortillas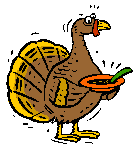 Filling:
1 1/2 cups milk
1/4 cup all-purpose flour
2 cups chopped, cooked turkey
2 green onions, sliced
1 1/2 teaspoon Tabasco brand Pepper Sauce
3/4 cup shredded Monterey Jack cheese, divided
Pepper Salsa:
2 tablespoons vegetable oil
1 large green pepper, seeded and diced
1 small yellow pepper, seeded and diced
1/4 cup sliced black olives
2 tablespoons chopped cilantro
1 tablespoon lime juice
2 teaspoons Tabasco brand Pepper Sauce
1/4 teaspoon salt
In 2-quart saucepan, whisk together milk and flour until well blended. Over medium heat, cook until mixture thickens and boils. Remove from heat; stir in turkey, green onions, Tabasco® Sauce and 1/4 cup cheese.
Grease 12 x 8-inch baking dish. Spoon about 1/4 cupful mixture down center of flour tortilla. Roll up and place seam-side down in baking dish. Repeat with remaining tortillas and mixture. Sprinkle with remaining 1/2 cup cheese. Bake 20 minutes or until mixture is hot and bubbly.
Meanwhile, prepare Pepper Salsa: In 10-inch skillet over medium heat, in hot oil, cook green and yellow peppers until tender-crisp, about 5 minutes, stirring occasionally. Stir in olives, cilantro, lime juice, Tabasco® Sauce and salt until well blended. Serve salsa with enchiladas.
Makes 6 servings.
Nutritional information per serving: 349 Calories, 23 g protein, 15 g fat, 30 g carbohydrates, 483mg sodium, 63 mg cholesterol
PastryWiz Thanksgiving Links
Thanksgiving Shopping Links
Copyright © PastryWiz TM
TABASCO® and the TABASCO® bottle design are registered trademarks exclusively of McIlhenny Co., Avery Island, LA 70513