Sourdough Bread
1 lb
Makes great San Francisco style sourdough.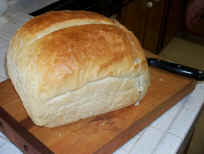 Bread maker Sourdough bread
Yields 1 lb loaf

Sourdough Bread Starter (make first)
2 cups water
1 tsp. active dry yeast
2 cups bread flour
3 Tbs. sugar

In a large bowl combine all ingredients. Stir until smooth. Cover loosely so a small amount of fresh air can get in. Place in a warm spot (80 degrees) for 3-5 days, stirring once a day.

The starter should have bubbles on the surface and begin to smell slightly sour. At this point, it is ready to use.

Sourdough Bread

3/4 cup plus 3 Tbs. water (warm)
1 Tbs. vegetable or olive oil (plain or flavored)
1 tsp. salt
2 1/2 cups bread flour
1 packet active dry or rapid Yeast (about 1 Tbs.) (I like FLEISCHMANN'S)
3/4 cups Sourdough Starter

Measure all ingredients into bread machine pan in the order suggested by manufacturer, adding sourdough starter with yeast. Process on basic/white or French bread cycle; use medium/normal crust.

Remove from bread pan and cool on wire rack.