Fragrant Cloverleaf Rolls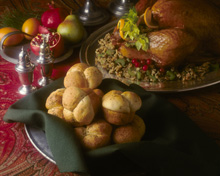 Yield: 12 rolls
Dough
3 cups bread flour
3 tablespoons sugar
2 teaspoons Fleischmann's Bread Machine Yeast
3/4 teaspoon salt
1/2 cup milk
1/3 cup water (70 to 80 F)
3 tablespoons butter or margarine, cut up
1 large egg
Herb Butter
3 tablespoons butter or margarine, melted
1 teaspoon Italian herb seasoning or fines herbs
1/4 teaspoon onion powder
Dough can be prepared in all-size bread machines.
To make dough:
Measure all dough ingredients into bread machine pan in the order suggested by manufacturer. Process on dough/manual cycle.
When cycle is complete, grease top of dough; cover tightly and refrigerate 2 to 24 hours.
Remove dough from refrigerator; punch down. Turn dough out onto floured surface. Divide dough into 12 equal pieces; divide each again into 3 pieces. Roll into smooth balls. Place three balls in each section of 12 greased muffin pan cups. Cover; let rise in warm, draft-free place until doubled in size, about 30 to 45 minutes.
To bake:
In small bowl, combine herb butter ingredients; brush on rolls. Bake at 375 F for 15 to 20 minutes or until done. Remove from pan; cool on wire rack.
Nutrition information per serving (1 roll): calories 203; total fat 7g; saturated fat 4g; cholesterol 34mg; sodium 216mg; total carbohydrate 29g; dietary fiber 1g; protein 5g
Source: Fleischmann's Yeast, a division of Burns Philp Food, Inc.