Mocha Pudding Cake
This gooey mess of a cake is a surefire hit with kids of all ages. The hot chocolate pudding rests under a thick blanket of moist mocha cake. For total decadence, scoop it into bowls and serve drizzled with heavy cream (or milk).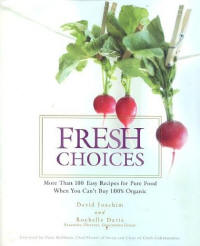 Yield: 8 servings
1 cup unbleached all-purpose flour or whole grain pastry flour
1 cup sugar
1/2 cup unsweetened cocoa powder
2 teaspoons baking powder
1/2 teaspoon baking soda
1/4 teaspoon salt
Pinch of ground cinnamon
1/2 cup organic 2% milk
1/4 cup GMO-free or organic canola oil
1 teaspoon vanilla extract
1/2 cup packed brown sugar
1 cup hot brewed coffee
Preheat the oven to 350 degrees. Coat a 10" deep-dish pie plate with oil spray.
In a large bowl, mix the flour, 3/4 cup sugar, 1/4 cup cocoa, the baking powder, baking soda, salt, and cinnamon. Stir in the milk, oil, and vanilla (the batter will be thick).
Spread in the prepared pie plate and sprinkle with the brown sugar, remaining 1/4 cup sugar, and remaining 1/4 cup cocoa. Pour the hot coffee over top.
Bake until the cake is set on top and the pudding starts to bubble up through the cake, 30 minutes. Cool in the pan for 10 minutes. Use a spoon to serve.
Helping Hand: Use decaffeinated coffee, if you prefer. Or make Chocolate Pudding Cake by omitting the hot coffee and using hot water instead.
Source: Fresh Choices by David Joachim & Rochelle Davis
More than 100 Easy Recipes for Pure Food When You Can't Buy 100% Organic
Buy the Fresh Choices cookbook in the US - DE - UK
More Recipes from Fresh Choices:
- Thai Fettuccine Primavera
- Grilled Salmon with Pineapple Ginger Salsa
- Berry-Stuffed French Toast