4th of July Red, White & Blue Star Cupcakes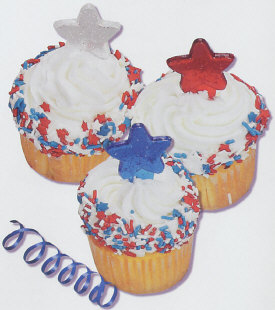 Yield: 36 Cupcakes
Cupcake - Muffin Recipe:
3 cups flour
2 cups sugar
1/2 cup cocoa
2 teaspoon baking soda
1/2 teaspoon salt
2 cup water
1/2 cup plus 2 tablespoons vegetable oil
2 teaspoons vanilla
Frosting:
1/2 cup unsalted butter, softened
1 8-ounce package cream cheese, softened
1 teaspoon pure vanilla extract or to taste
4 cups (1 pound) confectioners' sugar, sifted
4th of July Decorations used:
Red, White, Blue Transparent Glitter Star Puffy Picks
Edible Star Quins or red, white and blue Jimmies
or similar 4th of July decorations
Preheat oven to 350 F. Line cupcake baking pans with paper cupcake liners.
In large mixing bowl, combine flour, sugar, cocoa, baking soda and salt; set aside.
In second small mixing bowl, combine water, vegetable oil and vanilla. Add contents of small mixing bowl to large mixing bowl and stir with mixing spoon to combine.
Using mixing spoon, ice-cream scoop, or soup spoon, fill cupcake liners half full with cupcake batter.
Wearing oven mitts, place cupcake pans in oven; bake approximately 25 minutes or until done. When done, wear oven mitts to remove pan from oven and turn off oven. Cool completely.
For the Frosting:
In a bowl beat together the butter and cream cheese with an electric mixer set at medium speed until light and fluffy. Add 1 teaspoon pure vanilla extract. Beat in the confectioners' sugar, 1 cup at a time. Continue beating until light and creamy. You should have about 3 cups.
Using a pastry bag with a star tip pipe frosting onto muffins. Decorate with Glitter Star Puffy Picks or similar 4th of July decorations. Sprinkle sides with star quins or jimmies if desired.
Serve the cupcakes immediately, or cover lightly with plastic wrap and chill for up to 12 hours before serving.
You can use any muffin recipes to make cupcakes.
More 4th of July cakes & cupcake recipes!