Herb Italian Bread (bread machine)
This herb combination smells wonderful and goes great with an Italian dinner.

1 cup warm water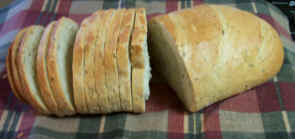 1 egg, beaten
1 tsp. salt
2 Tbs. sugar
2 Tbs. olive oil
2 tsp. dried or fresh rosemary
1 tsp. each dried or fresh oregano
1 tsp. dried or fresh basil
3 Cups flour
2 tsp. bread machine yeast

Place in machine according to machine instructions. A few minutes into kneading, check that the dough is the consistency that you want, not sticky or over floured. Add any flour or extra water that you need. Bake on large loaf, light crust.