Low-fat Granola Biscotti
These are one of the best low fat biscotti's I have ever made. Perfect for dumping in your early morning coffee.
Yield: 20 servings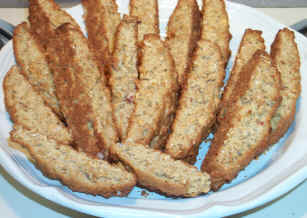 1 1/2 cups flour
3/4 tsp. baking powder
3/4 cup brown sugar
3 Tbs. margarine
2 eggs
1 tsp. Vanilla extract
1 tsp. Almond extract
2 cups low-fat granola (99% fat-free Trader Joe's adds extra flavor with bits of cranberry and apple)
Preheat oven to 350 degrees.
In a large bowl combine flour, baking powder, and brown sugar. Cut in the margarine using small pieces until the mixture resembles small crumbs. Mix in eggs, vanilla and almond extract. Mix in granola. If mixture seems sticky or runny add a little bit of flour.

Divide mixture into two equal parts. On a cookie sheet lined with parchment paper, shape each part into a 6"x 3" log. Flatten roll so it is about 3/4 of an inch high. Bake at 350 degrees until browned and almost firm, about 15 minutes; Pull sheet out of oven and carefully using a serrated knife slice each roll into 3/4 inch slices.

Place pieces back onto the cookie sheet but with the slices laying on their sides; cut side up (the end pieces won't be able to lay upwards.)

Bake biscotti at 350 degrees until toasted, about 5 minutes. Turn and bake one the other side another 5 minutes (If you like a softer cookie, only bake one side.)

Cool on wire racks.

Nutritional content: calories: 80, Fat: 2 g, Carbs: 14
Featured Recipes:
Chocolate - the food of the Gods
Step-by-step cake decorating
Featured Magazine:
Dessert Professional