Chocolate filled Thumbprint cookies
Makes about 4 dozen
12-oz pkg. chocolate chips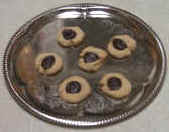 3 cups flour
1 cup butter
1 cup brown sugar
3 tsp vanilla
1/4 cup milk
2 Tbs. shortening
1/4 cup light corn syrup
2 tsp vanilla
2 Tbs. water

Pre-heat oven to 375.

In a large bowl, blend butter, brown sugar, and vanilla. Stir in flour, milk. Shape in teaspoon size balls. Place on un-greased cookie sheet. Make depression in center of each cookie with thumb. Bake 10-12 minutes at 375 degrees.

In a double boiler combine chocolate chips and the shortening. Stir until melted. Remove from heat. Stir in Corn syrup, 2 tbs. water, and the 2 tsp. vanilla. Fill each cookie.
Featured Recipes:
Chocolate - the food of the Gods
Step-by-step cake decorating
Featured Magazine:
Dessert Professional