New England Clam Chowder
6 servings
The summer is almost gone and winter is approaching. This soup is wonderful on a cold day. Tastes just like New England's famous clam chowder.

3-4 cups clams in clam juice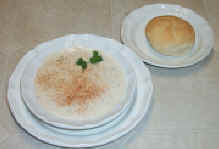 2-3 bacon strips plus 2 Tbs. bacon grease
1 small onion, copped fine
2 Tbs. flour
3 medium red potatoes, peeled and diced
3 cups milk
3 Tbs. butter
Salt & Pepper to taste
pinch of paprika (sprinkle on top)
1 parsley sprig (garnish)

Drain juice from clams to make 2 1/2 cups. Add water, if necessary. Cook bacon and remove from grease. Cut up bacon and set aside.

Add onion to bacon grease and cook until golden. Sprinkle flour over onion and cook, stirring, for 3 minutes. Add potatoes and clam juice. Cover and simmer 10 minutes. Add clams and simmer 10 more minutes or until clams are cooked and potatoes are tender.

Add milk, butter, salt, and pepper. Heat until butter has melted. Add bacon. Serve in separate bowls and sprinkle with paprika. Add a sprig of parsley as a garnish.

You can also freeze the soup and serve at a later time. Let the frozen soup thaw and then reheat on the stove or microwave.
Featured Recipes:
Chocolate - the food of the Gods
Step-by-step cake decorating
Featured Magazine:
Dessert Professional