Chili Salsa
Here is a recipe from James Stowe, a daily recipe subscriber. He says it is easy to prepare and is typical to salsas served here in El Paso.

2 14 oz cans whole tomatoes, with juice (I use Hunts or Del Monte)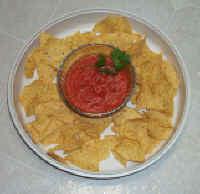 2-4 jalapenos (depending on how hot you like it)
2-3 Tbs. cilantro leaves (fresh)
4 green onions, chopped
2 cloves garlic

Boil jalapenos in water until they turn color and soften (about 7-10
minutes.) Slice off stems, cut in pieces and place in blender or food processor.

Add cilantro leaves, onions and garlic to blender and "chop" until fine. Add 2 cans whole tomatoes (with juice) to blender and blend for 5-10 seconds (more or less, depending on how chunky or smooth you want the salsa.)

Salsa will keep at least a week if refrigerated.

Top on tacos, chips, crackers, bread, or whatever you like.
Featured Recipes:
Chocolate - the food of the Gods
Step-by-step cake decorating
Featured Magazine:
Dessert Professional