Authentic Mexican Tacos
serves 8
Filling: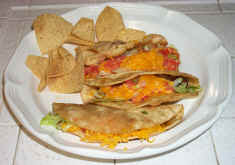 1 lb Lean ground beef
1/2 cup Chopped onion
1 Clove garlic, minced or pressed, optional
1 tsp. Salt
1/2 tsp Chili powder
2 cups Diced tomatoes
1 cup cheddar cheese, shredded
1 cup lettuce, shredded

Taco Shells:
1 1/2 cups cold water
1 cup flour
1/2 cup cornmeal
1/4 tsp. salt
1 egg
vegetable oil (for frying)

Taco Shells:
Heat skillet over medium heat until hot (add a little oil if necessary.) Beat water, flour, cornmeal, salt, and egg with beater until smooth. Pour 1/4 cup of batter into the skillet; rotate skillet until batter forms a thin tortilla (6 inches.) Cook until dry around the edge, about 2 minutes. Turn and cook other side for about 2 minutes.

In a medium saucepan add oil (about 1 inch.) Heat until about 375 degrees. Put tortilla into oil. Fold tortilla in half with tongs and hold so there is about a 1 inch gap. Fry turning occasionally until crisp and golden brown.

Drain on paper towel.

Filling:
Brown together ground beef, onion and garlic in a heavy frying pan over medium heat, stirring until meat loses its pinkness.

Add salt and chili powder, blend everything well.

Spoon about 1/4 cup hamburger mixture into each shell. Top with shredded lettuce, tomatoes, and cheese.

Featured Recipes:
Chocolate - the food of the Gods
Step-by-step cake decorating
Featured Magazine:
Dessert Professional