Corn Bread
12 servings
1 1/2 cups cornmeal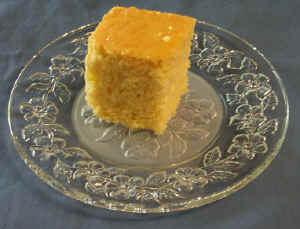 1/2 cups flour
2 tsp. baking powder
1 tsp. sugar
1 tsp. salt
1/2 tsp. baking soda
1/4 cup shortening (Crisco) or butter
1 1/2 cups buttermilk
2 eggs

Pre-heat oven to 450 degrees.

Mix all the ingredients and beat fast for about 30 seconds.

Grease a 9" x 2" round pan or a 8x8x2 square pan.

Cut a piece of parchment paper according to what pan you are using and line the pan.

Pour mixture into pan and let it even out.

Bake at 450 degrees for about 25 minutes. Serve warm.

Optional:
Corn Bread Muffins
Place paper muffin cups in about 14 slots in a muffin pan. Fill with mixture 1/2 way. Bake at 450 for about 20 minutes.

Bacon-Cheese Corn Bread
stir in 3/4 cups of shredded sharp American cheese. Stir in 4 slices of crispy crumbled bacon. Reduce salt by about 1/2 tsp.