Beer Battered Red Snapper Fillets
serves 2

3/4 cup flour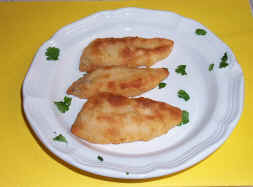 1/2 cup cornmeal
2 tsp. paprika
1 tsp. salt
1/2 tsp. pepper
2 eggs, separated
1 cup light beer, room temperature
1 Tbs. olive oil
1 1b Red Snapper fish fillets, no bones, no skin
3 lemon wedges

In a large bowl mix flour, cornmeal, paprika, salt and pepper. Make a well and add the egg yolks, beer and oil. Gradually mix with a wire whisk. Let stand for 1 hour.

Beat the egg whites until stiff and fold into the batter.

Coat each fillet with the beer batter right before you put it into the deep fryer. Don't do them all at once.

Using a deep fryer let the oil reach 375 degrees. Fry the fillets for about 2 minutes per side. Check to make sure they are done. You can usually tell if it is firm but bouncy. You want them crisp on the outside and juicy in the middle.

Serve with a squeeze of lemon.
Featured Recipes:
Chocolate - the food of the Gods
Step-by-step cake decorating
Featured Magazine:
Dessert Professional