Baked Lean Lemon Sole
serves 4

2 cups dry white wine or water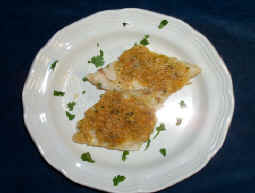 1 cup bread crumbs
1 1/2 - 2 lbs. sole fillets
4 Tbs. unsalted margarine, melted
1/4 cup lemon juice
dash salt
fresh pepper
2 Tbs. parsley, chopped
4 lemon wedges

Preheat oven to 450 degrees.

Place bread crumbs in a small bowl and roll each fish so both sides are covered.

Pour wine or water into a shallow baking pan. Place the fish skin side down in the pan. Brush the fish with the melted butter.

Bake for 7-20 minutes, depending on the thickness of the fillets. If really thin then check for doneness after 3 minutes.

If the fish hasn't darkened in color you can broil it for about 40 seconds. Don't overcook though.

Use a spatula and place each piece of fish on a plate. Pour any juices from the pan over the fish. Sprinkle the fish with lemon juice, salt, white pepper and chopped parsley.

Garnish with lemon wedges.
Featured Recipes:
Chocolate - the food of the Gods
Step-by-step cake decorating
Featured Magazine:
Dessert Professional