Fried Calamari
serves 3-4

1 lb squid, cut into small pieces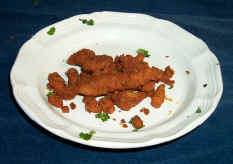 1/3 cup flour, for dusting
2 cups vegetable oil, for frying
2 lemons
Salt (to taste)
Pepper (to taste)

Remove the bones and cartilage from the squid and scrape the skin away with the dull side of a knife down to the white flesh. Cut the squid into pieces and rinse in cold water.

Place the squid in flour and shake off the extra.

In a medium saucepan, fry in hot oil until golden brown. Do not fry to many at once.

Season with lemon juice, salt and pepper.


Featured Recipes:
Chocolate - the food of the Gods
Step-by-step cake decorating
Featured Magazine:
Dessert Professional