Cappuccino Chocolate Chip Muffins
makes 6 large or 12 small
6 Tbs. butter, softened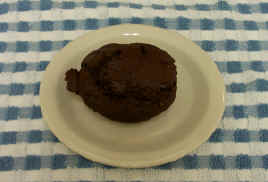 2/3 cup sugar
1/4 cup milk
1 1/2 teaspoons baking powder
1 3/4 cup flour
1 tsp. Salt
1 tsp. vanilla extract
1 large egg
1 Tbs. instant coffee dissolved in 2 Tbs. boiling water
3/4 cup chocolate chips

Pre-heat oven to 375 degrees.
Grease a 6 hole large muffin pan. In large bowl, beat butter and sugar until light and fluffy. Beat in egg, vanilla and dissolved coffee granules.

In medium bowl, combine flour, baking powder, and salt. Add flour mixture to butter mixture alternately with milk, beating until combined. Fold in chocolate chips. Divide batter among muffin pan cups.

Bake about 25-30 minutes. Serve.
Featured Recipes:
Chocolate - the food of the Gods
Step-by-step cake decorating
Featured Magazine:
Dessert Professional