Honey Chili Chicken
serves 5

1 fryer chicken (3-4 lbs.)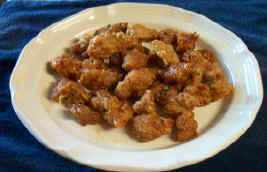 1/2 cup all purpose flour
1/2 tsp. salt
4-5 cups vegetable oil for frying
1/3 cup water
1/3 cup lemon
2 tsp. cornstarch
4 tsp. Chinese chili sauce (available at GongShee)
2 tsp. soy sauce
1 1/2 tsp. fresh ginger, minced
3 Tbs. honey
6 green onions, sliced lengthwise thin

Rinse chicken and cut into small serving size pieces. In a large bowl combine flour and salt. Add chicken pieces and toss. Make sure you coat each piece well.

Heat oil in a large skillet over high heat. Add chicken, one piece at a time, (only cook a few pieces at a time.) Cook until golden, about 5 minutes. Drain on paper towels. Repeat with all chicken pieces.

Remove all but 1 Tbs. oil from skillet. Combine water, lemon juice, cornstarch, chili sauce and soy sauce in a small bowl. Mix well.

Add ginger to skillet. Fry for 1 minute. Add honey. Cook and stir for 1 minute. Stir in cornstarch-chili mixture. Cook and stir until sauce boils, about 1 minute. Stir in chicken pieces. Cook and stir until heated thoroughly, about 3 minutes. Stir in onions. Cook and stir for about 1 minute more. Serve.
Featured Recipes:
Chocolate - the food of the Gods
Step-by-step cake decorating
Featured Magazine:
Dessert Professional