Sour Cream Apple Pie
Serves 6-8

Filling: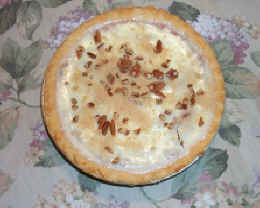 3 cups chopped green apples
2 eggs
1 cup sour cream
1 cup sugar
6 tablespoons flour
1 teaspoon vanilla
1/4 teaspoon salt
1 unbaked pie shell
3 tablespoons butter
1/4 cup brown sugar

Pie Crust:
1/3 cup plus 1 tablespoon shortening or 1/3 cup lard
1 cup all-purpose flour
1/4 teaspoon salt
2 to 3 tablespoons cold water

Pie Crust:
Combine flour and salt in bowl. Add shortening or butter and blend with fork or pastry cutter until mixture is fairly coarse. Add water, 1 tablespoon at a time, gently mixing dough after each addition until dough forms a ball. Place dough on a lightly floured surface and roll into a 10 to 11 inch circle. Line 9-inch pie pan. Flute edges. Chill until use.

Preheat oven to 425° F. Prick sides and bottom of pie shell with fork. Place pie weights or dried beans in bottom of shell to keep flat while baking. Bake for 10-15 minutes or until crust is brown as desired.

Filling:
Preheat oven to 375 degrees.

In a large bowl lightly beat the eggs. Add the sour cream, sugar, 2 tablespoons of the flour, vanilla and salt; mix well. Stir in the apples and pour into the pie shell. Bake for 15 minutes.

Combine the butter, brown sugar and the remaining flour, sprinkle over the pie. Return the pie to the oven and bake for 25 minutes. Cool completely on a wire rack. Serve or cover and refrigerate.

Featured Recipes:
Chocolate - the food of the Gods
Step-by-step cake decorating
Featured Magazine:
Dessert Professional