Green Bean Casserole Bake
Serves 6-8

4 cups cut green beans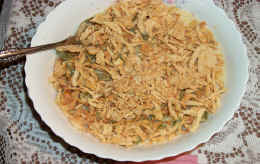 2 Tbs. butter
1 medium onion, coarsely chopped
1 cup fresh mushrooms
1 (10 3/4-oz.) can condensed cream of mushroom soup
1/2 Cup milk
1 (2.8-oz.) can French fried onions, divided
1 Tbs. Worcestershire sauce
1 tsp. vinegar
1 tsp. brown sugar
1 1/2 tsp. Dijon mustard
Salt and freshly ground pepper to taste

In a large frying pan melt the butter. Add the onions and cook over medium heat, stirring occasionally, until they are translucent.

While the onions are sautéing, clean the mushrooms, and cut them into quarters. Add them to the translucent onions and cook, stirring occasionally, until they give up their liquid and most of it has cooked off.

Preheat the oven to 350 degrees.

Stir the soup and the milk into the onion mixture. Add about half the can of fried onions, then stir in the Worcestershire, vinegar, brown sugar, mustard, salt and pepper.

Stir in the green beans. Turn the mixture into a 1 1/2-quart casserole dish and bake 25 minutes. Sprinkle the remaining half-can of onions over the top of the mixture and bake an additional 5 minutes.

Thanks to everyone for your cookie jar recipe feedback! Due to the high
volume of e-mails received, we are unable to respond to all of you
individually. We read all your messages and will have more jar recipes
shortly.
Featured Recipes:
Chocolate - the food of the Gods
Step-by-step cake decorating
Featured Magazine:
Dessert Professional