Halloween Cupcakes
Yield: 24 cupcakes
3/4 cup Margarine, butter or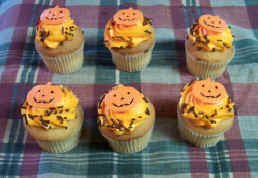 1 1/2 cup sugar
3 Eggs
3/4 cup Milk
1 tsp. Almond extract
2 1/4 cup flour
2 1/2 tsp. Baking powder
3/4 tsp. Salt
Halloween decorated cupcake cups

Frosting:
orange food coloring
2/3 cup water
12 cups confectioners sugar (powder sugar)
1-1/4 cups shortening
3/4 teaspoon salt
1/2 teaspoon almond flavoring
1/2 teaspoon clear vanilla flavoring
1/4 teaspoon butter flavoring

Preheat oven to 375 F.
Place baking cups in muffin pan.
Place all ingredients in bowl of electric mixer. Mix on low speed until thoroughly combined, scraping bowl frequently. Increase speed to medium and beat for four minutes. Pour into muffin cups.

Bake 25-30 minutes. Do not over bake.

Cool on wire rack for 10 minutes, then remove cupcakes from pan and continue cooling on rack.

Frosting:
Mix 4 cups of sugar with water, one cup at a time, beating after each addition at low speed. Alternately add shortening and remainder of sugar. Add salt and flavorings; beat at low speed until smooth. It is best to use a heavy duty mixer. To avoid powder sugar from going all over cover your bowl with a towel while mixing. Mix in orange color paste or 2 drops of yellow and 1 drop of red food coloring and mix.

Fill pastry bag with colored frosting and large star tip. Pipe dollops of frosting onto each cupcake.
You can add little Halloween picks for added decoration or sprinkle chocolate sprinkles on top.
Featured Recipes:
Chocolate - the food of the Gods
Step-by-step cake decorating
Featured Magazine:
Dessert Professional