Glazed Apricot sweet Potato Casserole
serves 6-8
8 medium sweet potatoes, cooked and peeled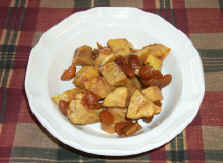 1/2 lb. dried apricots*
1/2 cup maple syrup or honey
1/2 tsp. nutmeg
3 Tbs. margarine

Boil potatoes for about 20 minutes over high heat. Cut potatoes in slices 1/2 inch thick. Place sweet potato slices, apricots, and syrup or honey in a greased 2-quart casserole.

Mix well. Sprinkle with nutmeg, add margarine.

Cover and bake in a 375 degree F oven for about 50 minutes, or until sweet potatoes are tender. Baste with the juices while baking.

*If apricots are very dry, parboil them for five minutes.
Featured Recipes:
Chocolate - the food of the Gods
Step-by-step cake decorating
Featured Magazine:
Dessert Professional