Mexican Moyettes (Sugar Crusted Sweet Bread)
6-8 servings
5 Cups flour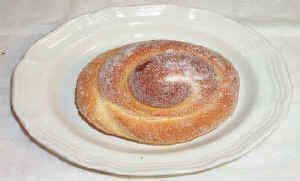 2 Cups Sugar
1 tsp. Salt
3 Tbs. Butter
1 pouch Active dry yeast
1 Cup Warm water (105 - 115°F)
1 Egg, slightly beaten
1/2 Cup Melted butter

In a large bowl mix flour, 1 cup sugar and 1 tsp. salt. Cut in the butter until the mixture resembles coarse meal.

Dissolve yeast in warm water, stir vigorously, and allow to ferment for 5 to 10 minutes. Then add the egg.

Add a small quantity of the flour mixture to the yeast and beat until thoroughly blended. Let stand for a few minutes.

Add the rest of the flour mixture, adding more flour if necessary to make a stiff dough. Knead on a lightly floured board until smooth.

Butter the top of the dough and cover with wax paper and let rise until doubled.

When the bread has risen, punch it down, and let it rise until doubled again. Knead the dough slightly, then cut 6- 8 strips and roll 8 inches long (resembling a snake.) lay the strips down and roll from one end into the center.

Let rolls rise until light and about doubled in size. Using a pastry brush, lightly brush on butter and then sprinkle with the sugar.

When nearly doubled, preheat oven to 400 degrees F. Bake in a preheated oven for 20 to 25 minutes, or until golden.