Chicken Tacos
Makes 12
2-1/2 cups shredded, cooked chicken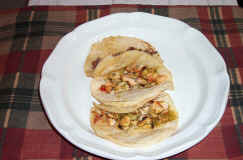 3 garlic cloves, minced
1 small onion, chopped
2 Tbs. oil
salt and pepper
12 corn tortillas, fried
vegetable oil

In a large frying pan heat to medium high. Add enough vegetable oil to coat the bottom of the pan. Add corn tortillas (2 at a time) and fry just until crispy on both sides.

Cook and stir garlic and onion in hot oil until tender. Stir in chicken, salt and pepper to taste; cook 1 minute.

Fill shells with about 1/4 cup of chicken mixture.

Garnish with shredded lettuce, cheese, salsa and sour cream, if desired.
Featured Recipes:
Chocolate - the food of the Gods
Step-by-step cake decorating
Featured Magazine:
Dessert Professional