Sour Cream Crumble Cake
about 15 servings
1/2 cup butter, room temperature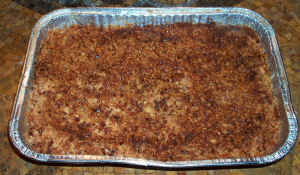 3/4 cup sugar
3 eggs
2 cups flour
1 tsp. baking soda
1 cup sour cream
1 tsp. baking powder

Topping:
1 cup brown sugar
2 tsp. cinnamon
1 cup walnuts, finely chopped
4 Tbs. cold butter, cut into pieces

Preheat oven to 350 degrees F. Line a 9 inch square cake pan with parchment paper.

Cream the butter until soft. Add the sugar and beat until light and fluffy. Add the eggs, one at a time, beating well after each addition.

In another bowl, mix flour, baking soda, and baking powder. Fold the dry ingredients into the butter mixture in three batches, alternating with the sour cream. Fold until blended after each addition.

In a large bowl mix brown sugar, cinnamon, and walnuts. Then add the butter and mix until the mixture looks like breadcrumbs.

Pour half of the batter into the baking pan and sprinkle half of the topping. Pour the remaining batter on top and sprinkle over the remaining topping. Bake until browned, 60-70 minutes. Leave in the tin for 5 minutes, then turn out and cool on a wire rack.
Featured Recipes:
Chocolate - the food of the Gods
Step-by-step cake decorating
Featured Magazine:
Dessert Professional