Chewy Ginger Cookies
makes 2 dozen
3/4 cup butter, softened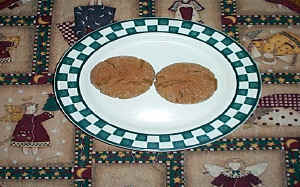 1 cup sugar
1 egg
1/4 cup molasses
2 1/4 cups flour
2 tsp. ground ginger
1 tsp. baking soda
3/4 tsp. ground cinnamon
1/2 tsp. ground cloves
Sugar
Beat butter, 1 cup sugar, egg and molasses until well blended. Stir in flour, ginger, baking soda and cinnamon. Shape dough into 1 1/2" balls.
Roll balls in sugar. Place balls on un-greased cookie sheet. Bake at 350°F for 10 minutes or until lightly browned and still puffed. Cool on cookie sheet for 2 minutes; remove to wire rack to cool completely.

Featured Recipes:
Chocolate - the food of the Gods
Step-by-step cake decorating
Featured Magazine:
Dessert Professional