Russian Tea Cookies
1 1/2 dozen
1 cup softened butter or margarine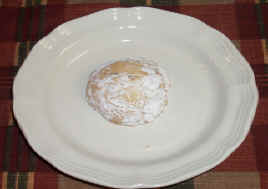 1/2 cup powdered sugar
1 tsp. vanilla
1/4 tsp. salt
2 1/4 cups flour
3/4 cup finely chopped walnuts
powdered sugar for garnishing


Preheat oven to 350 degrees F.
In a large bowl combine first four ingredients. Mix using an electric mixer for about 1 minute, blending well. Gradually add flour at low speed until just
combined; stir in nuts. Roll dough into 1 inch balls; place about 1-2 inches
apart on an un greased cookie sheet. Bake at 350 F for 8-10 minutes until
firm to the touch but not brown. Do not over bake. While warm, roll in
powdered sugar.
Featured Recipes:
Chocolate - the food of the Gods
Step-by-step cake decorating
Featured Magazine:
Dessert Professional