Raspberry Linzer Bars
2 dozen
3/4 cup butter, softened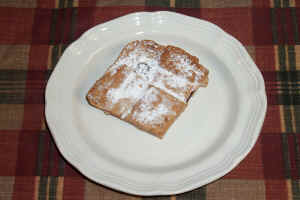 1/2 cup sugar
1 egg
1 tsp. vanilla extract
1/2 tsp. cinnamon
1/4 tsp. salt
1/8 tsp. ground cloves
2 cups flour
1 cup walnuts or hazel nuts (finely chopped)
1 cup raspberry jam
powdered sugar, for garnishing

Preheat oven to 325 degrees. Grease 9-inch square pan. In
a large bowl, cream butter, sugar, egg, vanilla, cinnamon,
salt and cloves.

Blend in flour and nuts. Set aside about
1/4 cup of the dough. Pat remaining dough
into bottom and about 1/2 inch up sides of pan. Spread with
jam. Roll remaining dough on floured board with your hands the same size as the pan. Place rolled dough over top, pressing ends against dough on sides.

Bake 45 minutes or until lightly browned. Cool in pan on wire rack. Cut into
squares.
Featured Recipes:
Chocolate - the food of the Gods
Step-by-step cake decorating
Featured Magazine:
Dessert Professional