Oatmeal chocolate Chip Bars
about 4 dozen
1 1/2 cups brown sugar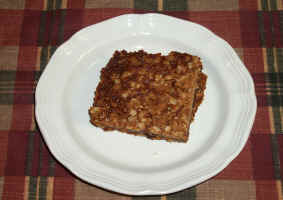 1 cup shortening
2 Tbs. molasses
2 tsp. vanilla
2 eggs
3 cups rolled oats
1 cup flour
1 tsp baking soda
1 tsp. salt
3/4 cup chopped walnuts
12 oz pkg. semi-sweet chocolate chips

Preheat Heat oven to 350. Grease a 13x9 inch pan.
In large bowl, beat brown sugar and shortening until light and fluffy. Add molasses, vanilla and eggs and blend well.

Stir in oats, flour, baking soda and salt and blend well. Stir in nuts and chocolate chips.
Spread in prepared pan and bake at 350 degrees F for 20-25 minutes or until light golden brown and center is set. Cool slightly; cut into bars.


Featured Recipes:
Chocolate - the food of the Gods
Step-by-step cake decorating
Featured Magazine:
Dessert Professional