Cinnamon Raisin Scones
8 scones
1-3/4 Cups flour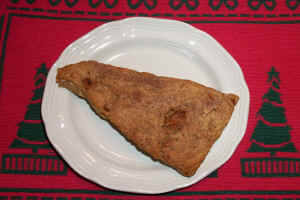 3 Tbs. sugar
1 Tbs. baking powder
2 tsp. ground cinnamon
1/4 tsp. salt
1/4 Cup margarine, melted
1/2 tsp. orange peel
1/2 Cup buttermilk
1 egg
2 tsp. vanilla extract
1/3 Cup raisins
3 Tbs. flour
1 tsp. sugar

Preheat oven to 425 degrees.

In a medium mixing bowl, combine the flour, sugar, baking powder, cinnamon, and salt.

In another mixing bowl, combine the margarine, orange peel, buttermilk, egg, vanilla extract, and raisins. Add the butter milk mixture to the flour mixture. Stir for 30 to 60 seconds, until the mixture gathers together into a ball.

Sprinkle 3 tablespoons of flour onto a clean surface. With lightly dusted hands, knead the dough for 1-1/2 to 2 minutes. Place kneaded dough on an ungreased baking sheet.

Pat the dough out into an 8-inch circle. Sprinkle with 1 teaspoon of sugar. With a pizza cutter, cut the circle into 8 triangular wedges. Separate the wedges from each other so they are not touching. Bake at 425 degrees for 15 minutes, until light golden brown.
Featured Recipes:
Chocolate - the food of the Gods
Step-by-step cake decorating
Featured Magazine:
Dessert Professional