Apricot Almond Biscotti
2 dozen
1 1/4 cups flour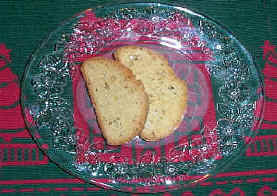 1 cup sugar
1/4 tsp. salt
3/4 tsp. vanilla
2/3 cup dried apricot halves, chopped
1/2 cup whole wheat flour
1/2 tsp. baking powder
5 Tbs. unsalted butter, cold, cut into pieces
2 eggs, lightly beaten
1/2 cup almond slivers
1 tsp. granulated sugar

Preheat oven to 350°F

In a large mixing bowl combine first five ingredients. Add butter and vanilla; mix until mixture resembles coarse meal. Add eggs and and blend. Add apricots and almonds. Blend until mixture is evenly moistened.

Using your hands, form into dough. Divide dough in half. Place parchment paper on a baking sheet. Shape dough into two 12-inch logs and lay on parchment paper.

With hands, flatten each log to a width of 2 inches. Sprinkle each log with remaining sugar.

Bake 25 minutes or until golden brown. Remove logs and place on cooling rack for 10 minutes. With serrated knife, carefully cut logs on the diagonal into 1 inch slices.

Place on baking sheet cut side up; return to oven and bake 7 minutes, or until very lightly browned.

Transfer to rack and cool completely.