Low-Fat breaded chicken strips
This recipe is for everyone that made their New Years resolution to eat healthier or lose weight.

1 lb. boneless skinless chicken tenderloins or breasts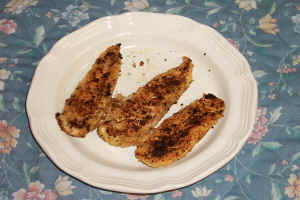 1 cup Italian seasoned bread crumbs
1 tsp. pepper
1 tsp. salt
1 tsp. onion powder
2 egg whites
cooking spray or 1 Tbs. of canola oil

Cut chicken into strips or buy a bag of boneless/skinless chicken strips at a place like Costco, BJ's, or Sam's Club. Make sure the strips are defrosted.

In a small bowl beat egg whites. Brush each strip with egg whites. Season each strip with a pinch of pepper, salt and onion powder. Lightly roll in the bread crumbs (You can find the bread crumbs at your local grocery store.)

Spay a frying pan with cooking spray or one tablespoon of canola oil. Cook chicken until golden brown (approximately five minutes per side). Serve with your favorite low-calorie sauce.

This makes a great salad topper also. You can make a lot of chicken at one time to last you for the week.
Featured Recipes:
Chocolate - the food of the Gods
Step-by-step cake decorating
Featured Magazine:
Dessert Professional