Beer Cheese Spread

This is a great spread for crackers.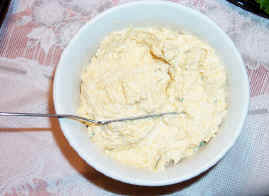 1 pkg. (3 oz) cream cheese, softened
1 pkg. (8 oz) sharp Cheddar cheese, shredded
1 clove garlic, minced
1 Tbs. Worcestershire sauce
1/2 tsp. dry mustard
1/4 tsp. ground red pepper
1/4 cup beer

Beat cheeses at medium speed with an electric mixer until smooth.

Add garlic and next three ingredients. beat well. Gradually add beer and beat until blended.

Featured Recipes:
Chocolate - the food of the Gods
Step-by-step cake decorating
Featured Magazine:
Dessert Professional