Spinach Mini Quiche Tartlets
Serves 7-8 people
Quiche Filling ingredients: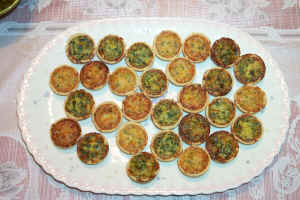 6 eggs
1 cup light cream
1 small onion, chopped fine
1/2 lb. white mushrooms, chopped
3 cloves garlic, crushed
1/2 cup spinach
1/4 cup Parmesan cheese
1/2 cup shredded cheddar cheese
Salt & Pepper to taste

Pastry Shell ingredients:
1 cup flour
6 Tbs. cold butter
1/8 tsp. salt
1/4 tsp. sugar
About 3 Tbs. ice-cold water

Directions to make Pastry crust:
Preheat oven to 375 degrees. Place flour, butter, salt and sugar in food processor. Process 5 to 10 seconds, just until butter is broken into small but still visible pieces. Add the water and process 10 to 15 seconds longer. Transfer dough to a bowl and press it gently together to form a ball.

On a floured surface, roll dough about 1/4 inch thick. Cut circles of about 4 inches. Press dough into mini tart pans. It should extend about 1/2 inch over the edge of pan. Roll or press this overhang back on the dough to make it thicker.

Place quiche mini tart crust on a pan and bake for 30 minutes just until crust begins to turn brown inside.

Let cool at least 10 minutes before filling.

To Assemble Quiche:
In a pan, sauté onions, mushrooms and garlic in margarine until soft. Set aside.

In a small bowl, beat eggs, add cream and mix well. Add onion mixture, spinach and salt & pepper. Add cheeses and mix well.

Fill crust cups with mixture. Bake for 15 minutes at 350 degrees. After 15 minutes open oven and sprinkle cheese on each quiche. Bake for 5 more minutes.
Featured Recipes:
Chocolate - the food of the Gods
Step-by-step cake decorating
Featured Magazine:
Dessert Professional