Favorite Deviled Eggs
Makes 12
6 hard boiled eggs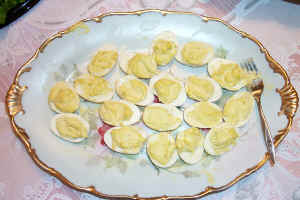 1/4 cup Mayonnaise
1 tsp. Vinegar
1 tsp. dry yellow Mustard
1/8. tsp Salt
Dash pepper
Dash Paprika

Peel shell and cut hard boiled eggs in half lengthwise. Remove yolks (yellow part.)

In a medium bowl place yolks, mayonnaise, vinegar, dry yellow mustard, salt, and pepper. Mash all together and fill each egg white halve. Sprinkle tops with paprika.

Featured Recipes:
Chocolate - the food of the Gods
Step-by-step cake decorating
Featured Magazine:
Dessert Professional