Apple-Cabbage Ravioli with Bacon & Thyme Broth
Serves 6
Homemade ravioli is a great family project - set up an assembly line with one person rolling and measuring, another filling the ravioli, and another (kids preferred) trimming with a speedy pastry wheel. Once made, ravioli can be frozen until minutes before serving. NOTE: To make this recipe more quickly, substitute wonton wrappers for ravioli dough and proceed from step 2.

Ingredients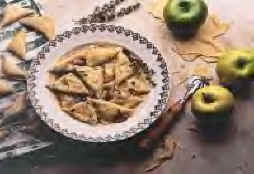 Ravioli Dough:
2 cups all-purpose flour
1/2 cup cornstarch
1/2 teaspoon salt
1/4 cup water
2 large eggs
2 tablespoons vegetable oil


Apple-Cabbage Filling
2 tablespoons butter
1 cup finely chopped onion
2 cups finely chopped green cabbage
1/2 cup water
1/4 teaspoon salt
1 Golden Delicious Apple, peeled, cored, and grated
1/2 cup ricotta cheese
1 large egg white, beaten


Bacon and Thyme Broth
4 ounces thick-cut bacon coarsely chopped
2-1/2 cups water
1 large cube chicken bouillon
2 teaspoons fresh thyme leaves or 1 teaspoon dried thyme
1-1/2 tablespoons cornstarch dissolved in 1 tablespoon cold water

Method:

Prepare ravioli dough: In a large bowl combine flour, cornstarch and salt. In measuring cup, beat together water, eggs and oil. Pout egg mixture into flour mixture and beat until dough forms. This can also be done in a food processor. Divide dough into quarters, wrap in plastic and let rest while preparing filling.

To prepare apple-cabbage filling, heat butter in large skillet. Add onion and sauté until golden. Add cabbage, water, salt and pepper to onion mixture; cover and simmer 10 minutes, stirring occasionally, Add apple to mixture, cover, and cook 7 to 8 minutes or until apple softens. Remove filling mixture from heat, stir in ricotta and set aside until cool enough to handle.

To make ravioli, line two baking sheets with clean cloths; dust cloths generously with flour. On lightly floured surface, roll out one quarter ravioli dough to a thin (1/16 inch) 9-inch square. Brush square with egg white and cut square into thirds, creating nine 3-inch squares. Place 2 teaspoons apple-cabbage filling in center of each square. Fold top corner of each square over filling to meet opposite bottom corner, creating a triangle. Pinch seam sides of triangle to seal completely. With knife or pastry wheel, trim edges slightly. Place ravioli on cloth-covered baking sheet. Repeat rolling, cutting, and filling with remaining dough. Dust tops of ravioli with flour, and refrigerate, uncovered, at least 1 hour. (To freeze ravioli, arrange in a single layer on floured sheet and place in freezer until frozen; store in sealed plastic bags for up to 3 weeks. If cooking from frozen, increase cooking time 2 to 3 minutes.

Just before serving, prepare bacon and thyme broth; In deep skillet, cook bacon until crisp. Remove bacon and set aside. Drain fat from skillet, add water and bring to boil. Stir in bouillon cube in thyme, reduce heat and simmer 5 minutes. Stirring, add cornstarch mixture to bouillon mixture. Bring to boil and stir constantly until mixture thickens,. Remove from heat and add reserved bacon; set broth aside while ravioli cooks. In large pot, bring 3 quarts water to boiling; add ravioli an cook 5 to 7 minutes or until tender. Drain, divide among serving bowls or deep plates and ladle bacon and thyme broth over all. Garnish with fresh thyme sprigs, if desired, and serve.

Each serving provides:
Protein: 14 g; Fat: 13 g; Carbohydrate: 53 g; Fiber: 3 g; Sodium: 795 mg; Cholesterol: 95 mg; Calories: 394

Copyright © 2000 Washington Apple Commission. All rights reserved.
Featured Recipes:
Chocolate - the food of the Gods
Step-by-step cake decorating
Featured Magazine:
Dessert Professional