Dried Cherry-Almond Bread

Dried cherries lend a wonderfully tart, fruity flavor to this tender nut loaf. Look for the dried tart red cherries in the produce department or in the dried-fruit section of your supermarket.

1 lb. loaf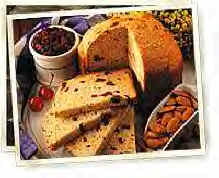 3/4 cup milk
1 tablespoon butter or margarine
1 large egg
3/4 teaspoon salt
2 cups bread flour
1/3 cup dried tart red cherries or dried cranberries
1/4 cup slivered almonds, toasted (see How to Toast Nuts tip below) 1 tablespoon sugar
1 1/2 teaspoons FLEISCHMANN'S Bread Machine Yeast

Directions
Use the 1-pound recipe if your machine pan holds 10 cups or less of water. Add ingredients to bread machine pan in the order suggested by manufacturer, adding dried tart red cherries and almonds with flour.
Recommended cycle: Basic/white bread cycle; light or medium/normal color setting.

Nutrition Information
Nutrition information per serving (1/12 of 1 1/2-lb. recipe): calories 194; total fat 4g; saturated fat 1g; cholesterol 22mg; sodium 223mg; total carbohydrate 32g; dietary fiber 2g; protein 7g.
Copyright © 1996 - 2000 Fleischmann's Yeast, a division of Burns Philp Food, Inc. All rights reserved.