Cheesy Onion Dinner Rolls
Makes 24 rolls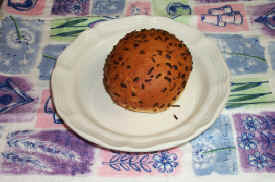 1/2 cup warm milk
1/4 cup warm water
1/2 cup sugar
1 tsp. salt
1 1/2 Tbs. active dry yeast
3 eggs, beaten
4 1/2 to 5 1/2 cups bread flour
2 Tbs. butter
2 cups chopped onion
1 tsp. salt
1/2 tsp. ground nutmeg
1/2 cup Parmesan cheese, freshly grated
2 cups Swiss cheese

Preheat oven to 400 degrees F.

In a medium bowl, combine milk, water, sugar and salt. Add yeast and let stand 5 minutes or until bubbly. Add eggs to yeast mixture. Place 2 1/2 cups of flour in a large mixer bowl and add egg mixture and mix at medium speed for 3 to 5 minutes.

Using your hands stir in the remaining flour to make a soft dough.

knead for 5 to 7 minutes. Place in a greased large bowl, cover with plastic wrap and proof for 50 to 60 minutes or until dough is doubled in size.

In a medium skillet, melt butter. Add onion, salt and nutmeg. Sauté until onions are soft and brown; set aside.

Cut dough in half and roll each half into a 1/2-inch thick rectangle. Spread each rectangle with half of the sauteed onions, 1/4 cup Parmesan cheese and 1 cup Swiss cheese. Roll each rectangle from long end, seal seam and cut in 1-inch slices. Place cut side down into greased muffin tins; loosely cover with plastic wrap and proof for 45 to 50 minutes or until doubled in size.

Bake for 12 to 15 minutes at 400 degrees F.