Chocolate Covered Biscotti
2 1/2 dozen

2 1/2 cups flour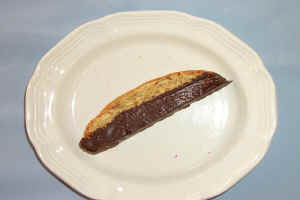 3/4 cup sugar
1/4 cup butter, softened
1 Tbs. anise seed
2 tsp. baking powder
1/4 tsp. salt 3 eggs
1 tsp. vanilla
1/2 cup chopped walnuts

Chocolate dip:
1 8oz pkg. semi sweet chocolate squares
1 Tbs. shortening

Mix 1-1/2 cups flour and all the other ingredients except the nuts with a mixer. Increase speed and beat 3 minutes.

By hand, stir in remaining flour and nuts. Refrigerate 1 hour until firm.

Preheat oven 375 degrees.

Divide dough in half. On a well floured board, shape 2 loaves 12"x2".
Place on greased sheet 2" apart and bake for 20 minutes on 375 F. Remove from oven. With a serrated bread knife slice into 1" bars.

Turn on sides and bake 15 minutes or until golden. Cool on rack.

Melt semi sweet chocolate squares with shortening. Dip cookies into chocolate and place on wax paper to dry.
Featured Recipes:
Chocolate - the food of the Gods
Step-by-step cake decorating
Featured Magazine:
Dessert Professional