Decorated Spritz Cookies
6 dozen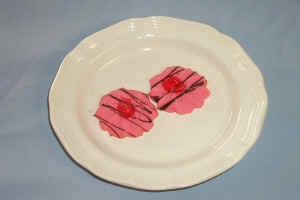 1 1/2 cups butter
1 cup sugar
2 Tbs. milk
1 egg
1 tsp. vanilla
1 tsp. almond extract
4 cups flour
1 tsp. baking powder
red food coloring
36 marachino cherries (Cut in half)
1/4 cup chocolate chips
1/8 cup margarine

Preheat over to 400 degrees.

Cream butter and sugar together. Add egg, milk, vanilla and almond extract. Beat well.

Stir together flour and baking powder. Gradually add to creamed mixture. Add 4-5 drops red food coloring and mix to make a smooth dough. Do not chill.

Place dough into cookie press and press cookies onto un-greased cookie sheet. Cut cherries in half and place a half in the center of each cookie.

Bake at 400 degrees for 8 minutes. Remove cookies from sheet and place on cooling rack.

When cooled, melt chocolate and 1/8 cup margarine in microwave. Using a fork or flat object dip one end in chocolate and wave back and forth over cookie for a chocolate design. Let chocolate harden.
Featured Recipes:
Chocolate - the food of the Gods
Step-by-step cake decorating
Featured Magazine:
Dessert Professional