Spinach Quiche
Serves 6-8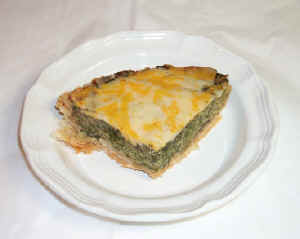 Quiche Crust:
1 1/2 cups flour
1/2 cup Lard (Crisco), chilled
3-4 Tbs. ice water
1/2 tsp. salt

Preheat oven to 375 Degrees F.

In a large mixing bowl sift the flour and salt. Using a pastry mixer, cut
Crisco into flour mixture. Pour 3-4 Tablespoons of water over dough and mix
with fork until blended. place dough in saran wrap and flatten into
a circle with your hands.

chill for 15 minutes.

remove from saran wrap and place on well-floured surface. using a floured rolling pin
roll out to a disc about 14 inches in diameter. then transfer to pie pan and trim the edge.

Spinach Filling:
1 pkg. (10 oz.) chopped frozen spinach, squeeze all water out
1 small onion chopped and sauteed in butter
3 eggs
1/2 pint heavy whipping cream
celery salt to taste
pepper and salt to taste
nutmeg to taste
6-8 oz. grated Swiss or cheddar cheese

Prick the bottom of the crust with a fork, and brush with an egg white.

Line bottom of crust with a thin layer of cheese, then blend everything
else together and poor into crust.

Top with remaining cheese and bake at 375 degrees F. until slightly set.


Featured Recipes:
Chocolate - the food of the Gods
Step-by-step cake decorating
Featured Magazine:
Dessert Professional