Mexican Cheesy Chicken Fondue
Serves 8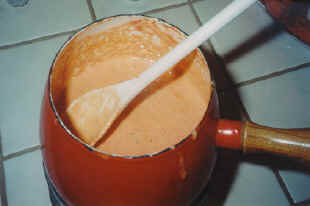 This is a wonderful fondue for a party and tastes really great with tortilla chips, vegetables and even in a tortilla wrap.

2 green onions, sliced
4 large garlic cloves, minced
2 Tbs. butter
16 oz. Jalapeno Jack cheese, cut into 1/2" cubes
2-4 Tbs. milk
8 oz. cooked shredded chicken
2 Tbs. tomato, chopped
2 Tbs. cilantro, finely chopped

Sauté onions and garlic in butter in a medium saucepan until tender for about 2 to 3 minutes.
Add cheese. Cover pan and cook over medium-low heat until cheese is melted. About 10 minutes, stirring frequently. Stir in milk if mixture is too thick.

Mix in Chicken, tomato and cilantro. Pour cheese into fondue pot or small chafing dish to keep heated.

If you like a hotter cheese fondue, add fresh or canned Jalapenos.
Featured Recipes:
Chocolate - the food of the Gods
Step-by-step cake decorating
Featured Magazine:
Dessert Professional