Creamy Garlic Dip
Makes 2 1/2 cups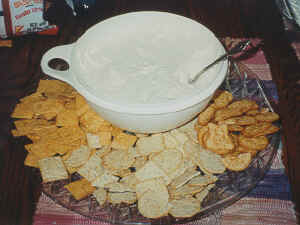 2 cups Mayonnaise
4 oz. Cream Cheese
1/2 cup Garlic Cloves, chopped
1/4 cup white Scallions, chopped
Salt & Pepper, To Taste

Combine all ingredients in the bowl of a food processor and pulse until mixed thoroughly.

Serve with chips, vegetables, or crackers.

Featured Recipes:
Chocolate - the food of the Gods
Step-by-step cake decorating
Featured Magazine:
Dessert Professional