Cappuccino Mini Coffee Cup Cakes

Cake: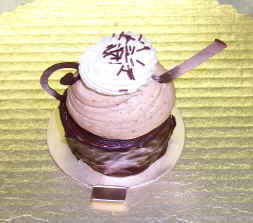 1 1/4 cups (2-1/2 sticks) butter
3/4 cup cocoa powder
1 cup plus 1 Tbs. sugar, divided
1 Tbs. flour
2 tsp. vanilla extract
4 eggs, separated
1 cup mini milk chocolate baking pieces

Cake directions:
Heat oven to 425°F. Grease bottom of 9-inch spring form pan.

Melt butter in medium microwave safe bowl and add 3/4 cup cocoa and 1 cup sugar, stirring until well blended. Cool 5 minutes.

Stir in flour and vanilla; add egg yolks, beating well after each addition. In medium bowl, beat egg whites with remaining 1 tablespoon sugar until soft peaks form; gradually fold into chocolate mixture with baking pieces. Spoon batter into prepared pan.

Bake 15 to 18 minutes or just until edges are firm (1-inch circle in center will be soft). With spatula, loosen cake from side of pan. Cool completely on wire rack; remove pan.

Cover; refrigerate at least 6 hours.

Chocolate Ganache:
2 lbs. semisweet chocolate chips
4 cups heavy cream

Chocolate Ganache directions:
Melt the choc. with the cream in a heavy saucepan and cook over very low heat until the mixture is smooth and glossy.

Mocha Buttercream:
1/4 Cup Instant coffee powder
2 tsp. Water
8 Tbs. (1 stick) unsalted butter at, room temperature
1/4 Cup powdered sugar
3/4 Cup Plus 2 Tbs. heavy whipping cream, chilled

Mocha Buttercream directions:
Dissolve the coffee in the water.

Place all ingredients in a food processor and process until light and
fluffy, about 5 minutes. Stop the machine several times to scrape down the sides of the bowl with a rubber spatula.

Transfer the butter cream to a medium sized mixing bowl and, using the
whisk attachment of an electric mixer, continue to beat on medium-high
speed, until the butter cream is white and fluffy, 15 to 20 minutes. Stop the mixer to scrape the bowl several times with a rubber spatula
Use the butter cream for frosting within an hour or it will need rewhipping.

Additional ingredients:
Heavy whipping cream, whipped with sugar
chocolate sprinkles
8 oz semi-sweet chocolate chips, melted and formed into shapes *(see below)

* Place coarsely chopped chocolate in a microwave-safe container and microwave at MEDIUM (50 percent power) for 1 1/2 to 4 minutes, until the chocolate turns shiny. Remove the container from the microwave and stir the chocolate until completely melted.

Using a pastry bag with a small tip or just a small hole squeeze out straight lines (1 1/2 inch in length) on a piece of wax paper. You will need about 5.

Also make 5 chocolate handles. They are in the shape of a treble clef or similar to the letter C. Place in refrigerator and let harden.

Assembly:
While cold use a rounded biscuit cutter and cut as many little cakes out as you can. Should be about 4-5 cakes.

Pour the shiny ganache over the little cakes. Using a spatula smooth over the tops and sides of each mini cake.

Place the butter cream in a large pastry bag with a large star tip.
After ganache has settled and has become harder, squeeze the pastry bag in a spiral motion on the tops of each cake.

Fill another pastry bag with whipped cream. Do the same thing as you just did with the butter cream but in a smaller amount.

Sprinkle with chocolate sprinkles.

Place the chocolate handle after it is completely hardened on one side and the straight stick into the other side to complete your coffee cup.
Featured Recipes:
Chocolate - the food of the Gods
Step-by-step cake decorating
Featured Magazine:
Dessert Professional