Hot Cross Buns
serves 12
3 cups flour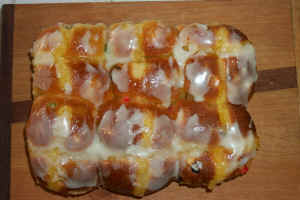 1 tsp. salt
1/2 tsp. all spice
1/2 tsp. nutmeg
cinnamon
1/4 cup sugar
1/2 cup butter, melted
1 egg, beaten
3/4 cup raisins
1/3 cup candied citron fruit

Yeast Mixture:
1 Tbs. dry yeast
1 Tbs. sugar
2/3 cup warm milk
1/2 cup warm water
1 cup flour

Glaze:
2 Tbs. milk
2 Tbs. water
3 Tbs. sugar

Preheat oven to 425 degrees F.

Mix all yeast ingredients in a bowl. Set aside and let it foam. Sift flour, salt, spice, and sugar in a second bowl. Add fruits and mix well. Mix butter, eggs and add to yeast mixture. Add yeast mixture to flour mixture. Knead dough on floured surface, 8-10 minutes or until smooth and elastic.

Divide into 12 equal pieces, shape into round buns. Place rolls close together in a baking pan. Cover and let rise at warm room temperature for 45 minutes.

Use a sharp knife to cut an X-shape on the dough surface.

Bake in oven at 425 degrees F for 15-20 minutes or until golden brown. Cool on rack.

Make glaze by bringing ingredients to boil in a saucepan for 2 minutes. Brush glaze over buns thickly.