Eggplant Rigatoni Salad
8 oz Package Rigatoni pasta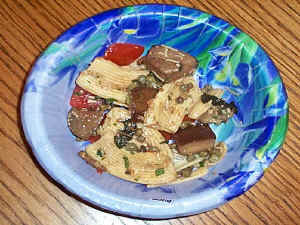 2 Tbs. Oil
1 Garlic Clove, minced
1 Eggplant, diced
2 Cups Tomatoes, chopped
1/2 Cup Olives, Chopped
1 Cup Corn
Salt and pepper To Taste.

Cook Rigatoni according to Package directions. Drain & set aside.

Heat oil in a skillet and sauté garlic. Add eggplant & cook until browned.

Add tomatoes, corn, olives, salt, and pepper. Cover & cook until corn is tender.

Toss in pasta & serve immediately.