Viennese Cookies
makes 2 dozen

2 Cups butter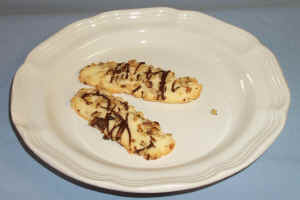 1/4 cup sugar
1/4 tsp. vanilla essence
2 Cups flour
pinch of salt
1 cup pecans, chopped
1 cup chocolate chips, melted

Preheat oven to 350 degrees F
Cream butter and sugar together to give a very light consistency. Add 1/2 the flour and beat together.

Add remaining ingredients and mix well. Pipe mixture using a large star-shaped tip in lines of 3 inches long and of double thickness.

Sprinkle chopped pecans over the tops of the cookies.
Bake at 350 degrees F for 15 minutes.

Allow to cool. Drizzle chocolate over each cookie and let set for the chocolate to harden.
Featured Recipes:
Chocolate - the food of the Gods
Step-by-step cake decorating
Featured Magazine:
Dessert Professional