Chicken Parmesan
Serves 4-6

4 - 6 skinless boneless chicken breasts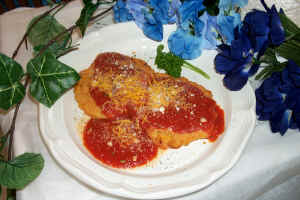 3 Tbs. olive oil
1/3 cup Italian seasoned bread crumbs
1/2 cup grated Parmesan cheese
1 egg, beaten
3/4 cup chopped onion
1 can (15 oz.) tomato sauce
1/4 salt
1/4 tsp. pepper
1 tsp. dried oregano
1/4 Lb. mozzarella or cheddar cheese, shredded

Preheat oven to 350 degrees F.

In a small bowl, mix bread crumbs and Parmesan cheese. Heat 2 tablespoons of oil in a large frying pan.

Dip chicken pieces in beaten egg, then in the bread crumb mixture. Brown each side in the oil for about 5 to 7 minutes.

Meanwhile, in a saucepan heat the remaining tablespoon of oil, and saute the onions until tender. Stir in the tomato sauce, salt, pepper and oregano. Bring to a boil.

Place the chicken pieces in a baking dish. Pour 3/4 of the sauce over top. Place the mozzarella over top, and pour the remaining sauce over all.

Bake, uncovered, for about 20 minutes, until chicken is cooked and cheese is melted.
Featured Recipes:
Chocolate - the food of the Gods
Step-by-step cake decorating
Featured Magazine:
Dessert Professional